The Breakfast Club Makes Guest Appearance on MSNBC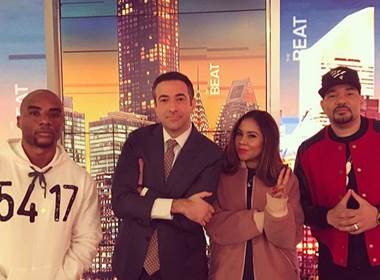 LOS ANGELES, February 15, 2019 –
The Breakfast Club
's Angela Yee, Charlamagne Tha God and DJ Envy made an appearance on MSNBC's The Beat with Ari Melber yesterday, February 14.  The trio discussed why their show has become a key stop on the campaign trail and how they're holding 2020 presidential candidates accountable through their interviews. 
"So you're saying your power in 2020 is because of your audience?" asked Melber. 
"100%...it's only because of our large audience," responded Charlamagne. 
Pictured: Charlamagne Tha God, Ari Melber, Angela Yee and DJ Envy
About The Breakfast Club:
The Breakfast Club is a four and a half hour morning show featuring DJ Envy, Angela Yee and Charlamagne Tha God's unrivaled interviews with celebrities and recording artists. From megastars like Kevin Hart, Justin Timberlake, Jennifer Lopez and Arnold Schwarzenegger to rap icons such as Jay-Z, Kanye West and Nicki Minaj, every guest visiting The Breakfast Club is grilled with their signature blend of honesty, wit and humor. The results are the best interviews to be found on radio and digital.  The Breakfast Club originates from the legendary Power 105.1/WWPR-FM in New York and is nationally syndicated by Premiere Networks on more than 80 stations nationwide, including markets such as Houston, Atlanta, Miami, Detroit and Boston.  The trio also host Weekends with The Breakfast Club, a three-hour weekly program featuring a countdown of the top 20 hits of the week. Please visit www.PremiereNetworks.com for more information.
# # #