The Clay Travis & Buck Sexton Show Features LIVE Interview with President Trump from Bedminster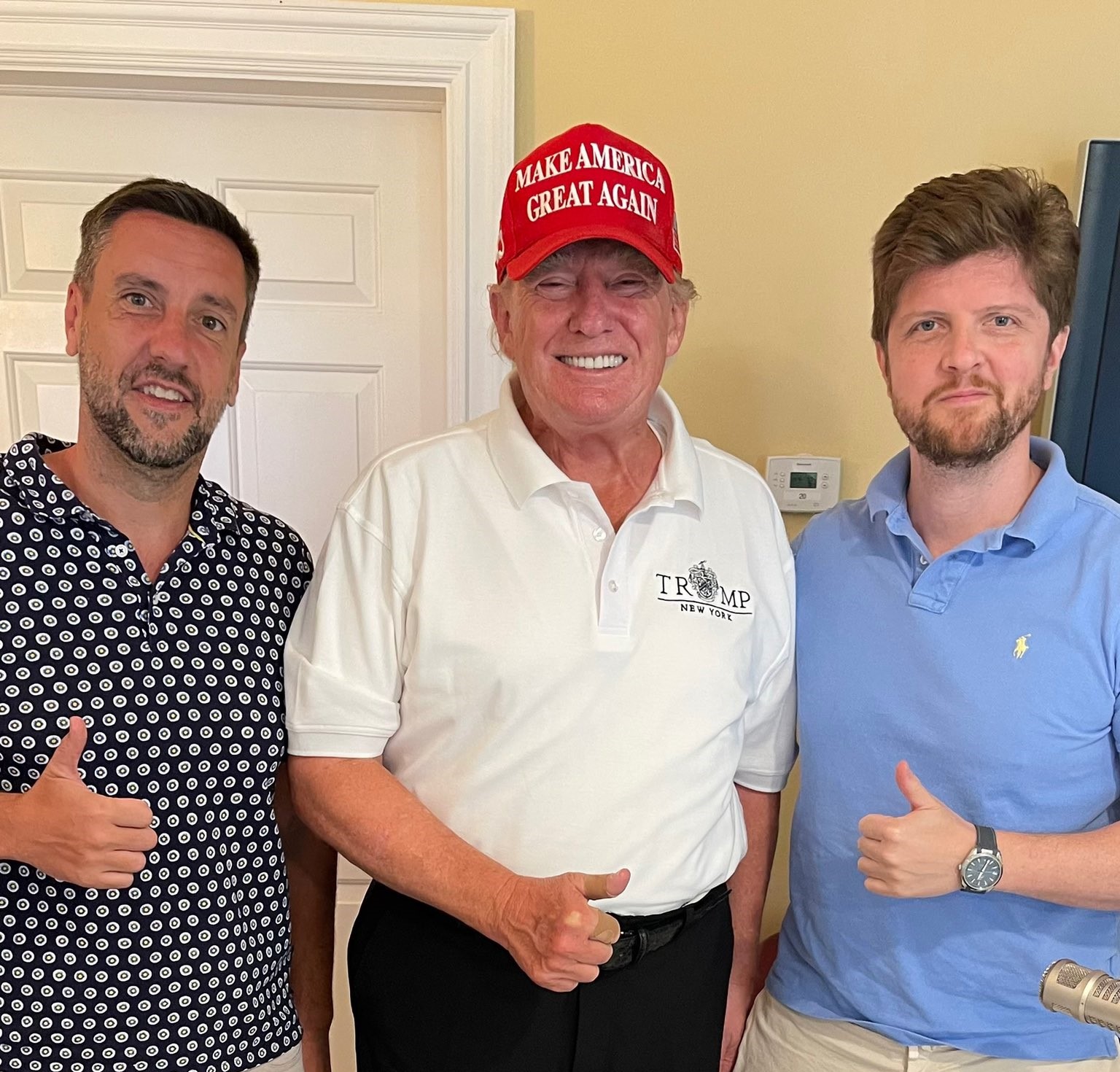 LOS ANGELES, July 29, 2022 – Today on The Clay Travis & Buck Sexton Show, President Donald Trump joined the program live from the Trump National Golf Club in Bedminster, New Jersey, the site of the LIV Golf tournament.  In a long-form, candid interview, Trump discussed the recession; China and Taiwan; whether he'll run for President again in 2024; the Russia invasion of Ukraine and Vladimir Putin's possible endgame; the midterm elections; and much more.
On the possibility of running for President:
TRUMP: "Very hard for me not to run to be honest. And also the polls indicate from the Republican standpoint it would be easy. And I think I was up 11 points on Biden the other day... I don't know why 11... If you guys ran, you'd be up more than 11."
He went on to say. "In my mind, I've already made the decision."
Listen to the full interview on ClayandBuck.com HERE or read the transcript HERE.
Pictured: Clay Travis, Donald Trump and Buck Sexton at the Trump National Golf Club in Bedminster, New Jersey
About The Clay Travis & Buck Sexton Show
Airing in the timeslot held by "The Rush Limbaugh Show" for more than three decades, Clay Travis and Buck Sexton tackle the biggest stories in news, politics and current events with intelligence and humor. Travis – an entrepreneur, former host of FOX Sports Radio's industry-leading weekday morning program, "Outkick The Coverage with Clay Travis" and founder of the wildly popular sports, pop culture and politics based media company Outkick Media, which is owned by Fox Corporation; and Sexton – former host of the Premiere Networks-syndicated weekday program "The Buck Sexton Show," political commentator, and former CIA officer and NYPD counterterrorism expert, help guide listeners through the latest headlines and hot topics with fun and entertaining conversations and opinions. "The Clay Travis & Buck Sexton Show" airs weekdays from 12 p.m. to 3 p.m. ET on more than 400 stations nationwide. For more information, please visit www.ClayandBuck.com or PremiereNetworks.com. Fans can also follow @ClayandBuck on social media. To download a photo of Clay Travis and Buck Sexton, click HERE.
About Premiere Networks
Premiere Networks, a subsidiary of iHeartMedia, syndicates more than 100 radio programs and services to more than 8,200 radio affiliations and reaches a quarter billion listeners monthly. Premiere offers the best in talk, entertainment and sports programming featuring the following personalities: Ryan Seacrest, Glenn Beck, Delilah, Steve Harvey, Clay Travis, Buck Sexton, George Noory, Dan Patrick, Colin Cowherd, Granger Smith, John Boy and Billy, Sean Hannity, Elvis Duran, Mario Lopez, Bobby Bones, Johnjay and Rich, Big Boy, Brooke & Jeffrey, Doug Gottlieb, Enrique Santos, Nancy Grace, and others. For more information, please visit www.PremiereNetworks.com.
# # #