Little Steven Visits Syracuse Affiliate The Rebel 105.9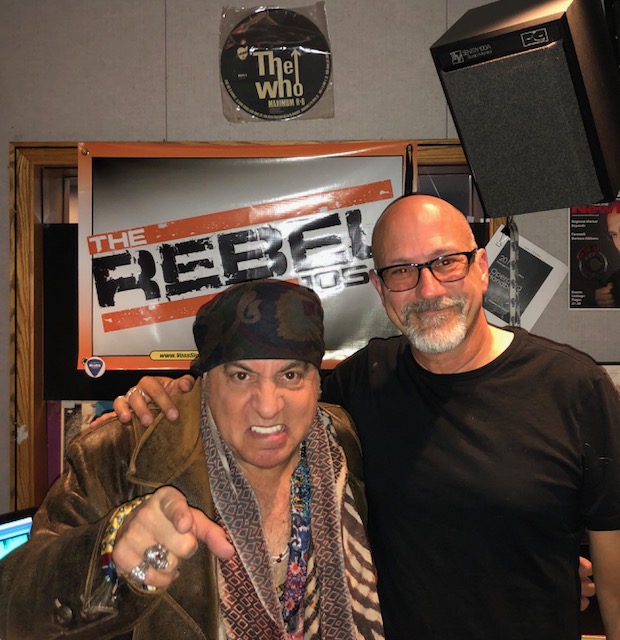 LOS ANGELES, March 19, 2019 – Little Steven, host of the Premiere Networks-syndicated Little Steven's Underground Garage, stopped by his Syracuse affiliate The Rebel 105.9/WXTL-FM while he was in town for a speaking engagement at Syracuse University yesterday, March 18.  In addition to visiting with the staff, Little Steven took over the mic for an hour to play some tracks from his personal catalogue, as well as select songs from Bruce Springsteen, Paul McCartney, Darlene Love, The Jellybricks, and a special tribute to the late Dick Dale. He also played some songs from his upcoming album with the Disciples of Soul. 
Pictured: Little Steven with WXTL-FM Program Director Dave Frisina
About Little Steven's Underground Garage
Hosted by Stevie Van Zandt, Little Steven's Underground Garage is a weekly, nationally-syndicated Rock and Roll radio show.  Each week, Little Steven takes audiences on a two-hour trip through all 60 years of Rock and Roll, and its roots, alongside the best new Rock bands in the world. Not only does The Underground Garage play the coolest Rock records ever made, but it has also helped introduce over 700 new bands throughout the history of the show. The program also features history, anecdotes, fun facts, and occasional interviews with special guests. Little Steven's Underground Garage is heard in nearly 100 markets nationwide, and internationally in Canada, Italy, Spain, Ireland, Sweden, Belgium, Peru, and Australia, as well as worldwide on the American Forces Network and Voice of America. For more information, please visit www.premierenetworks.com.
# # #