Delilah Inducted into Adoption Hall of Fame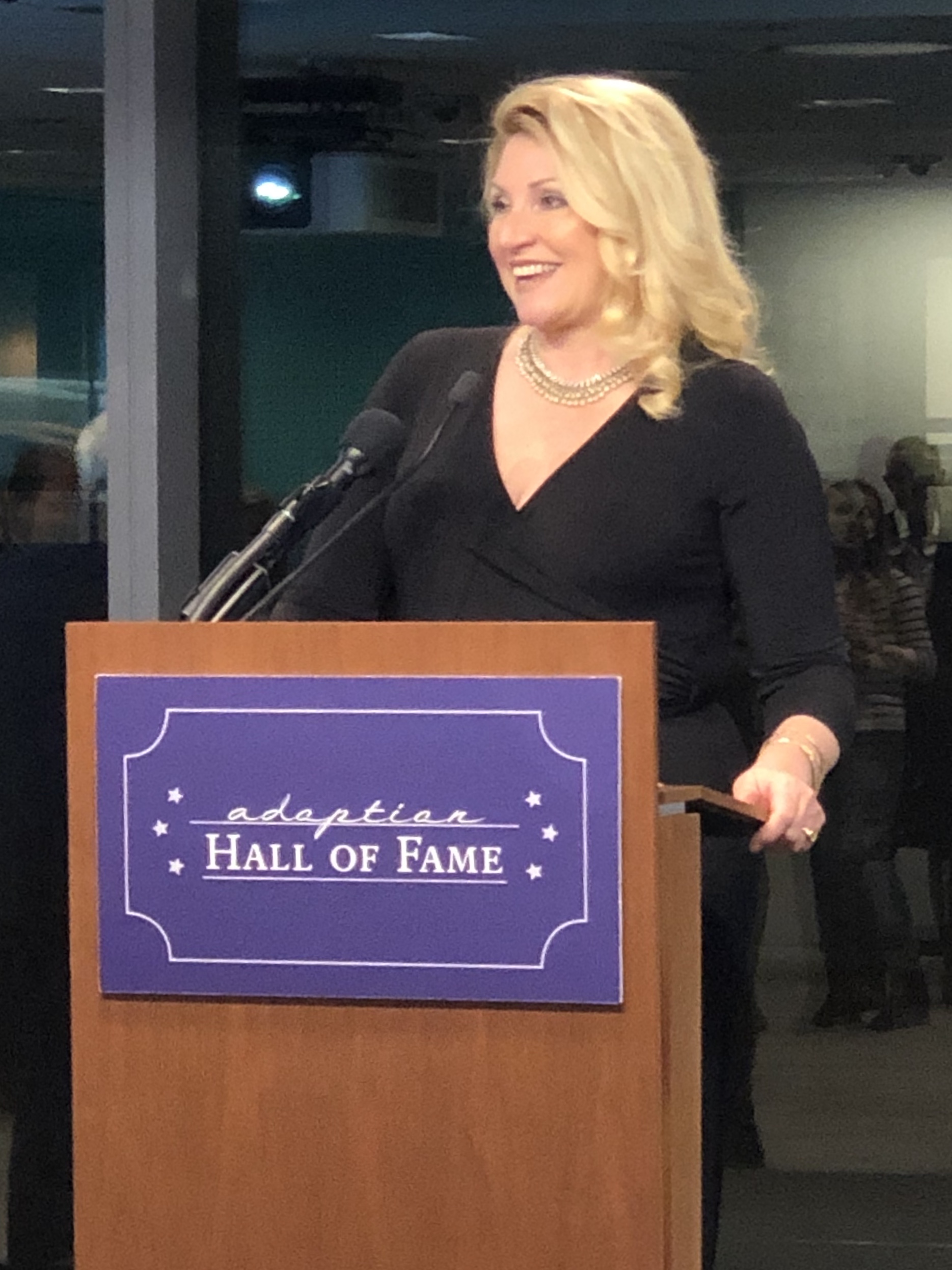 LOS ANGELES, November 9, 2018 –
Premiere Networks-syndicated personality Delilah – the most-listened-to woman on radio – was inducted into the 2018 Adoption Hall of Fame at a ceremony held in Washington, D.C., last night.  The Adoption Hall of Fame Award is given by the National Council for Adoption (NCFA) in recognition of outstanding commitment, service, and sacrifice for the cause of adoption by an individual or organization who has positively impacted the practice of adoption. A mother of 13 children, 10 of whom were adopted, Delilah was honored for her decades-long commitment to children in need of a family, and for using her national radio platform and her non-profit organization Point Hope to celebrate adoption and raise awareness of children waiting to be adopted from the U.S. foster care system.
"As a beloved radio host with a massive following, Delilah has been an inspiration to millions of people, serving as a friendly voice for callers to chat with throughout life's ups and downs," says NCFA president and CEO Chuck Johnson. "With a loving heart, Delilah has made a home for the 10 children she has adopted. She is an incredible advocate for children to have loving, permanent families. Through her work at Point Hope—a non-profit organization she founded over a decade ago—Delilah is committed to advocating for children in foster care and providing resources that reduce the burden on foster parents and let kids in care know they are not forgotten. We thank Delilah for being a voice for children in need, and we are proud to induct her into our Adoption Hall of Fame this year." 
More information is available here. 
Pictured: Delilah accepts the Adoption Hall of Fame Award given by the National Council for Adoption (NCFA) in Washington, D.C.
About Delilah
Often referred to as the "Oprah of Radio," Delilah's soothing voice, open heart and love of music attract millions of listeners on more than 160 radio stations, making her the most-listened-to woman on radio in the U.S.  For her work on the program, the Marconi Award winner has been inducted into the National Association of Broadcasters (NAB) Broadcasting Hall of Fame and the National Radio Hall of Fame. Nationally syndicated by Premiere Networks, Delilah is heard by over 8 million people across the United States and internationally on the American Forces Network in Japan, Korea and Central Europe, along with her channel on iHeartRadio and her new podcast, Conversations with Delilah. Delilah is also the author of four books, including her most-recent work One Heart at a Time. Published by RosettaBooks, it features an inspiring, uplifting, and motivating look at life, love, and faith.  Please visit www.Delilah.com for more information.
About National Council For Adoption 
Founded in 1980, National Council For Adoption (NCFA) is a global adoption advocacy nonprofit that promotes a culture of adoption through education, research, legislative action, and collaboration. As the authoritative voice for adoption, NCFA's areas of focus include domestic infant adoption, adoption and permanency outcomes for youth in foster care, and intercountry adoption. Passionately committed to the belief that every child deserves to thrive in a nurturing, permanent family, NCFA serves children, birth parents, adopted individuals, adoptive families, and adoption professionals. In addition, we work tirelessly to educate U.S. and foreign government officials and policymakers, members of the media, and all those in the general public with an interest in adoption. For more information, visit www.AdoptionCouncil.org.
# # #