Premiere Networks Celebrates Gracie Award Winners Angela Yee and Lynda McLaughlin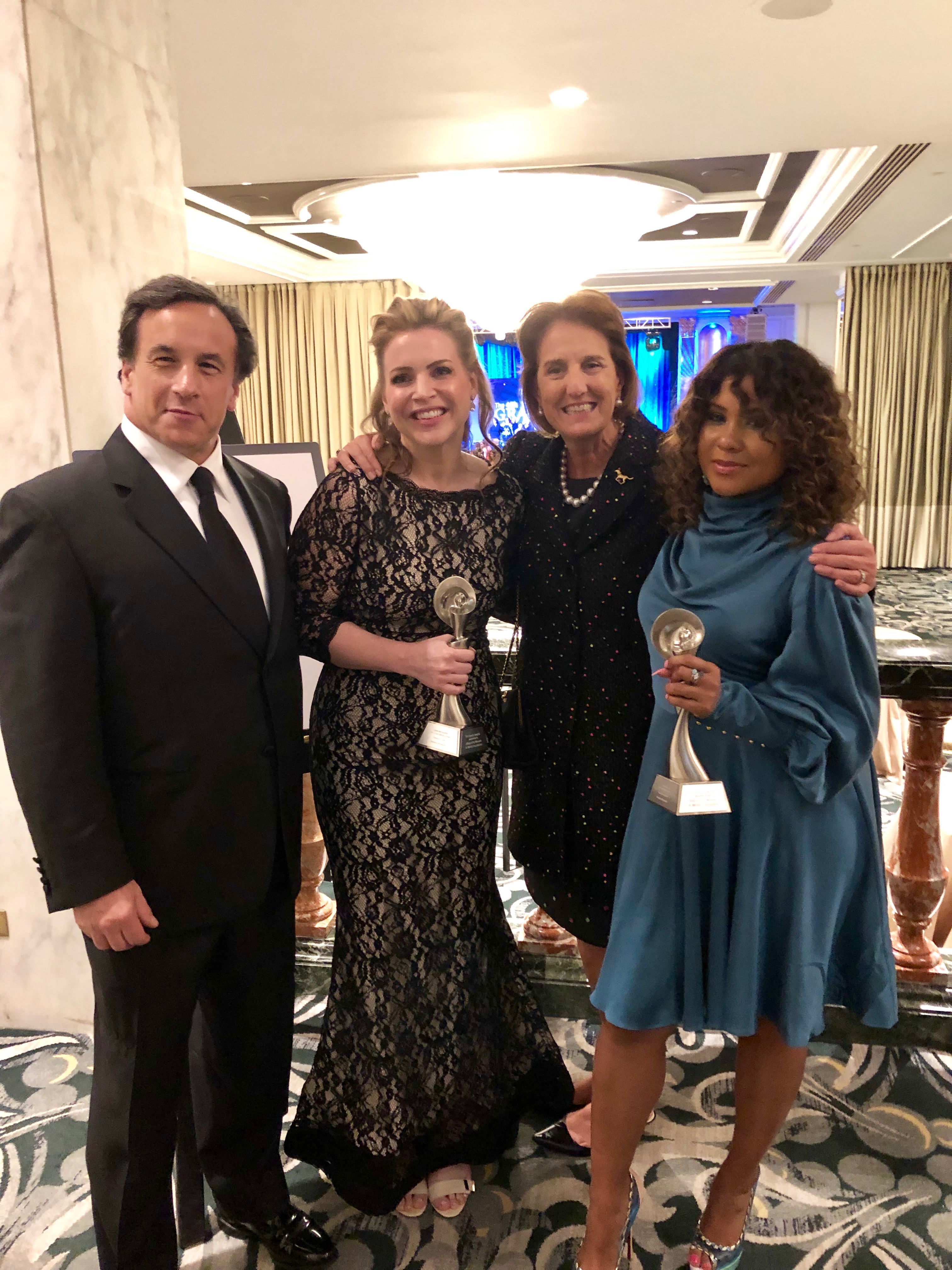 LOS ANGELES, May 22, 2019 -
Last night, May 21,
The Breakfast Club'
s Angela Yee and
The Sean Hannity Show
's Executive Producer Lynda McLaughlin were honored at The Alliance for Women in Media Foundation's 44th annual Gracie Awards.  Yee was honored in the National Radio Host/Personality category, and McLaughlin took home the award for National Talk Radio Producer. The annual gala recognizing exemplary programming created by women, for women and about women in all facets of media and entertainment was held at the Four Seasons Beverly Wilshire Hotel in Los Angeles. Video from the Gala can be viewed here:  https://livestream.com/accounts/28492473/events/8689915
Pictured left to right: Premiere Networks Executive Vice President, Director of Personality Sales Dan Metter, Lynda McLaughlin, Premiere Networks President Julie Talbott and Angela Yee at The Alliance for Women in Media Foundation's 44th annual Gracie Awards in Los Angeles. 
For more information about the Gracies, please visit https://allwomeninmedia.org/gracies/.
About The Breakfast Club:
The Breakfast Club is a four and a half hour morning show featuring DJ Envy, Angela Yee and Charlamagne Tha God's unrivaled interviews with celebrities and recording artists. From megastars like Kevin Hart, Justin Timberlake, Jennifer Lopez and Arnold Schwarzenegger to rap icons such as Jay-Z, Kanye West and Nicki Minaj, every guest visiting The Breakfast Club is grilled with their signature blend of honesty, wit and humor. The results are the best interviews to be found on radio and digital.  The Breakfast Club originates from the legendary Power 105.1/WWPR-FM in New York and is nationally syndicated by Premiere Networks on more than 80 stations nationwide, including markets such as Houston, Atlanta, Miami, Detroit and Boston.  The trio also host Weekends with The Breakfast Club, a three-hour weekly program featuring a countdown of the top 20 hits of the week. Please visit www.PremiereNetworks.com for more information.
About The Sean Hannity Show:
Sean Hannity is a multimedia superstar, spending four hours a day every day reaching millions of Americans on radio, television and internet. As host of The Sean Hannity Show, his provocative, free-wheeling, passionate commentary on politics and the American agenda has made him the second-most-listened-to talk radio host in the U.S. The program is heard on more than 600 radio stations nationwide by nearly 18 million monthly listeners. For his work in radio, Hannity has received two Marconi Awards for "Nationally Syndicated Radio Host of the Year" and is a three-time consecutive winner of the Radio & Records "National Talk Show Host of The Year Award." He was inducted into the National Radio Hall of Fame in 2017.  Hannity has also authored three New York Times bestsellers, "Let Freedom Ring: Winning the War of Liberty over Liberalism," "Deliver Us From Evil: Defeating Terrorism, Despotism, and Liberalism" and "Conservative Victory: Defeating Obama's Radical Agenda." Hannity currently serves as host of FOX News Channel's Hannity, which airs weeknights from 9 to 10 p.m. ET. Hannity, who joined the network in 1996, is one of the most prominent and influential conservative voices in the country, and his program offers a mix of news, commentary, guest interviews and more.  Please visit www.Hannity.com for more information.
# # #