Rush Limbaugh and Thousands of Patriotic Americans Across the United States "Stand Up for Betsy Ross!"
Media Contact: media@karhl.us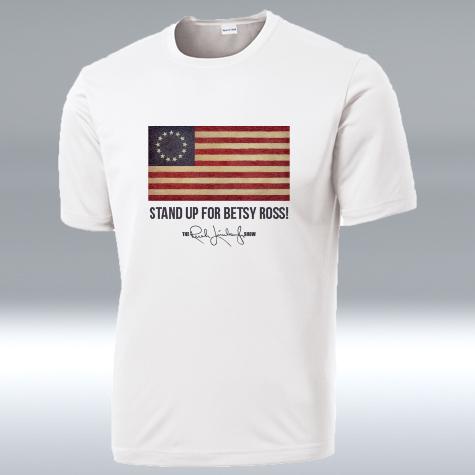 [PALM BEACH, FLORIDA, July 10, 2019] In response to Nike pulling Betsy Ross flag-themed sneakers this week, Rush Limbaugh released a "Stand Up for Betsy Ross!" T-shirt on his popular radio show and website, benefitting the Stephen Siller Tunnel to Towers Foundation, a registered non-profit 501(c)(3) organization, https://tunnel2towers.org. 

Tens of thousands of "Stand Up for Betsy Ross" T-shirts, featuring an illustration of the iconic Betsy Ross-designed flag sold within minutes of the radio announcement and continue to sell rapidly.
Rush Limbaugh said, "I am tired of people like Colin Kaepernick and others taking all of the incredible rewards of this country happily, while continuing to bash it left and right. Our history is not perfect.  However, the United States of America is truly the land of the free for all. Our country is a miracle. For Americans, nothing is impossible."
Thousands across the country are taking up Rush Limbaugh's "Stand Up for Betsy Ross" call and are pushing back against the attacks on American symbols and fundamental values. 
"Betsy Ross was an American hero. She was one of the early feminists before the term was coined. Betsy Ross was a strong, creative, hard working woman. Why on earth should we attack her? Is this a new definition of 'war on women'? It's outrageous," said Limbaugh.
Due to the popularity of the Rush Limbaugh Stand Up for Betsy Ross! T-shirt, fake knockoffs abound on the internet. Rush Limbaugh warned listeners: "We've identified many knockoffs out there! There are people who have literally commandeered the design, they have commandeered the artwork of my signature, some even stole text from our website of my comments and put it out as theirs. The only place to purchase the official Rush Limbaugh approved Stand Up for Betsy Ross flag shirt is at www.rushlimbaughshowstore.com. Don't get fooled!"
For additional information, visit www.rushlimbaugh.com or www.rushlimbaughshowstore.com.
# # #