"Rush Limbaugh: The Man Behind The Golden EIB Microphone" Limited Podcast Series Launches May 12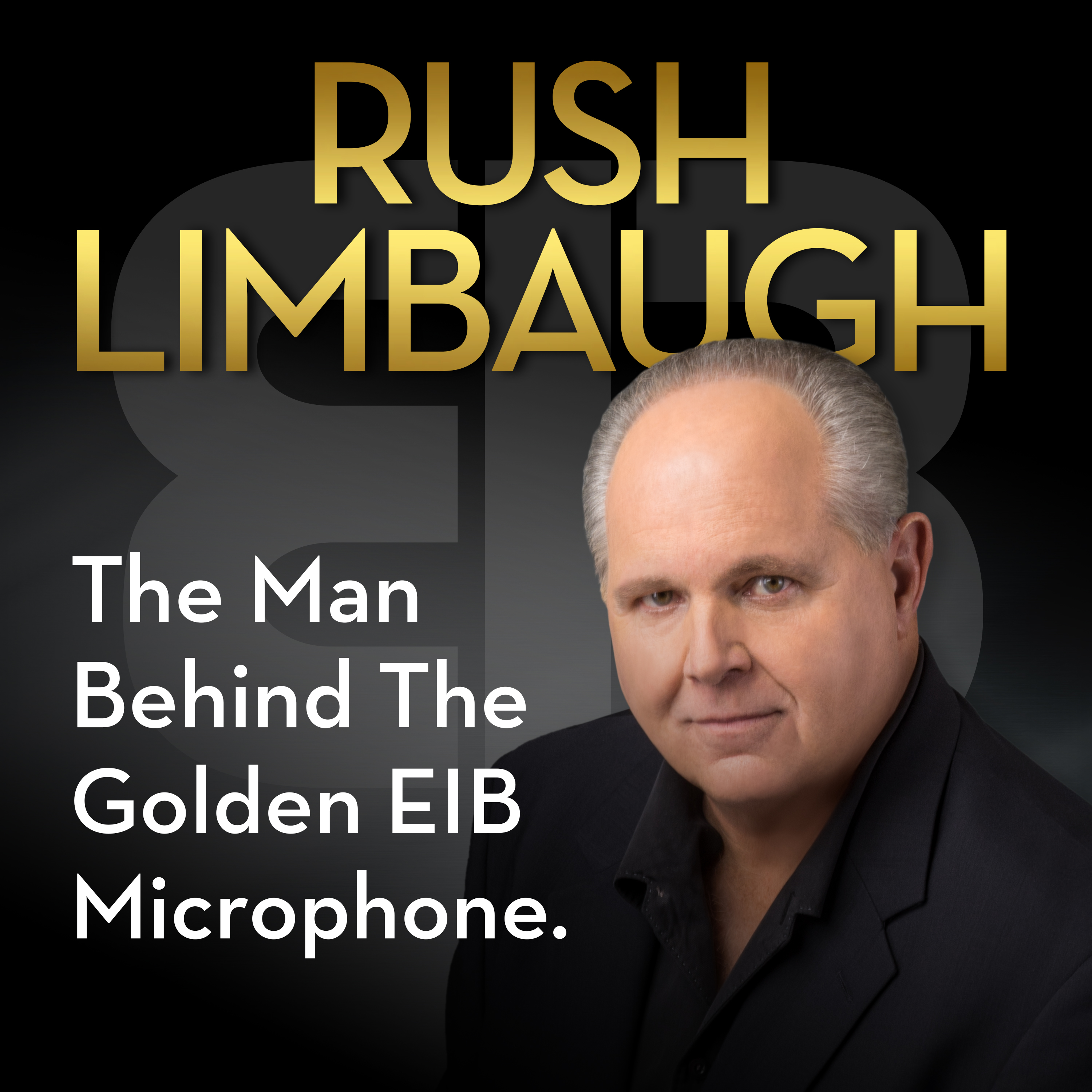 The 12-episode series narrated by James Golden, aka "Bo Snerdley," launches May 12
Listen to the official trailer now, here.
LOS ANGELS, April 21, 2021 – Premiere Networks and the EIB Network announced today the launch of a new, limited original podcast series, "Rush Limbaugh: The Man Behind The Golden EIB Microphone."  
The 12-episode series will detail legendary radio host Rush Limbaugh's award-winning, 30-plus year career in radio that revitalized the spoken-word format, and provided a platform for him to develop and lead modern conservatism in America. Featuring Limbaugh's own words and never-before-heard stories shared by colleagues, friends and family, the series will give listeners a guided tour of the five-time Marconi Award winner's historic journey from Cape Girardeau, Mo., to becoming the No. 1 talk radio host in America.  The series will also highlight Limbaugh's lasting legacy, which includes "The Rush Limbaugh Show's" continued dominance as the most-listened-to talk radio program in the U.S.
"Rush Limbaugh: The Man Behind The Golden EIB Microphone," will be narrated by James Golden, Limbaugh's long-time call screener and "official show observer" known to listeners as "Bo Snerdley." Golden had a front row seat to "The Rush Limbaugh Show" for nearly all 33 years of its existence.
Presented by My Pillow and The Tunnel to Towers Foundation, "Rush Limbaugh: The Man Behind The Golden Microphone" will debut May 12, with weekly episodes available Wednesdays on iHeartRadio and everywhere podcasts are heard. Listen to the trailer here.
"The only blessing greater than working with Rush, was knowing the man that he truly was," said Golden. "It is not only my honor, but also my duty, to help ensure his legacy is properly acknowledged. I want to thank Premiere Networks and the EIB Network for allowing me this profound opportunity."
"We look forward to sharing this incredible series with millions of Rush Limbaugh fans," said Julie Talbott, President of Premiere Networks. "Those who knew Rush best will provide an insider's look at his life and career, providing a true celebration and tribute to the greatest talk radio host of all time."
Visit iHeart.com/apps to download iHeartRadio and listen to "Rush Limbaugh: The Man Behind The Golden EIB Microphone" on your favorite device.
About James Golden
James Golden, under the pseudonym "Bo Snerdley," served as the "Show Observer" and Call Screener for "The Rush Limbaugh Show" for more than 30 years.  He is also Senior Partner and CEO of Golden Age Consulting Group.  In his early twenties, Golden worked at radio station WWRL in New York as Director of Marketing and Research, and later served as the radio station's first Music Research Director. From there he went to WABC – New York as Music Director and the station's senior producer in the talk format.  From 1992 to 1998, Golden co-hosted (with Joel Santisteban) a political call-in show, "The James and Joel Show," on WABC radio in New York.  From 1998 to 2001, Golden served as Vice President for Programming at Talkspot.com, where he also hosted two Internet radio programs. He occasionally contributes written political commentary online.  Golden was part of the production team on the Rush Limbaugh television program, which aired from 1992 through 1996. He attended City University of New York-Queens College from 1973 to 1976.
 
About Rush Limbaugh
Rush Limbaugh is widely credited with reviving AM radio with the debut and ensuing massive popularity of his nationally-syndicated, self-titled program. Limbaugh and his partners launched The Rush Limbaugh Show on August 1, 1988, with 56 radio stations, and in just a few months, an additional 100 affiliates were added, thus paving the way for the expansion of the Talk radio format. The show continued to grow nationwide without the help of a major syndicator, so when listeners inquired about his network affiliation, Limbaugh began referring to his team as the Excellence in Broadcasting network, later dubbed the EIB. For more than three decades, The Rush Limbaugh Show led the talk radio industry and it continues to be the most-listened-to national radio talk show in America. 
The Rush Limbaugh Show celebrated its 32nd year in national syndication in August 2020. Over the course of his career, Limbaugh was recognized by the National Association of Broadcasters with five Marconi Awards for "Syndicated Radio Personality of the Year," tying for the most wins ever in the category (1992, 1995, 2000, 2005 and 2014).  He was inducted into the Radio Hall of Fame in 1993, the National Association of Broadcasters Hall of Fame in 1998, and the Hall of Famous Missourians in 2012.
The Rush Limbaugh Show continues to be syndicated by Premiere Networks on more than 600 stations nationwide, reaching millions of loyal listeners. Covering all the important topics and issues of the day, the program features Limbaugh's timeless wisdom and relevant audio from his award-winning career in broadcast excellence, which is guided by the familiar voices of Todd Herman, Ken Matthews, Jason Lewis and Brett Winterble. For more information, please visit www.RushLimbaugh.com.
About Premiere Networks
Premiere Networks, a subsidiary of iHeartMedia, syndicates more than 100 radio programs and services to more than 7,100 radio affiliations and reaches a quarter billion listeners monthly. Premiere offers the best in talk, entertainment and sports programming featuring the following personalities: Rush Limbaugh, Ryan Seacrest, Glenn Beck, Delilah, Steve Harvey, George Noory, Dan Patrick, Colin Cowherd, John Boy and Billy, Sean Hannity, Elvis Duran, Mario Lopez, Bobby Bones, Clay Travis, Cody Alan, Johnjay and Rich, Big Boy, Brooke & Jeffrey, Buck Sexton, Doug Gottlieb, Enrique Santos, Nancy Grace, Jason Lee, Hollywood Hamilton and others.  For more information, please visit www.PremiereNetworks.com.
# # #
Media Contact:
Rachel Nelson
Premiere Networks/iHeartMedia
rnelson@premierenetworks.com